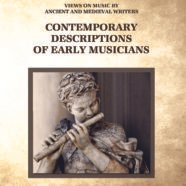 Jan

28
Tags
Related Posts
Share This
Contemporary Descriptions of Early Musicians
Ancient Voices: Views on Music by Ancient and Medieval Writers
Contemporary Descriptions of Early Musicians
The first part of this volume presents first-hand accounts of individual ancient musicians, singers, instrumentalists, conductors, both men and women.
The second part presents much background information on those wandering musicians of the late Middle Ages who formed a single musical language in Europe, the Jongleurs, Minstrels, Troubadours, Minnesingers and Goliards.
The musicians described in this volume are forgotten by history, but they created and passed on our musical culture.
Paperback versions are available from Amazon.com.