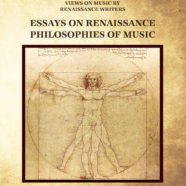 Jan

28
Tags
Related Posts
Share This
Renaissance Philosophies of Music
Renaissance Voices: Views on Music by Renaissance Writers
Essays on Renaissance Philosophies of Music
This volume consists of essays which present the reader with Renaissance views on their philosophy of music. The contemporary opinions here cover the general new view of man himself in the 14th century, a variety of views on the new values of the Renaissance and valuable first-hand commentary on performance practice.
Taken together, here Renaissance musicians provide the reader with a broad background which will help enable the musician to make informed judgments in planning his performance of Renaissance music.
Paperback versions are available from Amazon.com.