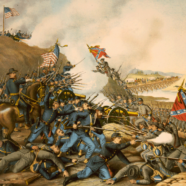 May

14
Tags
Related Posts
Share This
Whitwell, Saxophone Concerto
David Whitwell
Civil War Reflections
For Saxophone and Wind Ensemble
"for Jerry D. Luedders"
The music for this concerto began in 1997 as my mother was dying. For some reason the Civil War popular song by George F. Root, "Just Before the Battle, Mother," came to mind and in the second movement the wind ensemble sings this wonderful old song.
This thinking about the Civil War brought to mind my great grandfather, Elijah Houston Whitwell, who died at age 31 together with his entire regiment in the Battle of Franklin, the very last major battle of the Civil War. A Pentagon Army historian has written a history of this battle and has dedicated the book to my great grandfather. The third movement, Elegy, is named for him.
The original first movement was an attempt to recreate the sound of a genuine Civil War era band, using the full modern wind ensemble. In this movement I quoted two more original melodies from that period, one being Lincoln's campaign song since I share a distant grandfather with the great man. It did not work well so I replaced it with the present more somber movement. As a result the entire composition is rather on the contemplative side and does not have the rousing character one usually hears in reproductions of the music of this period.
Download a preview of the score.
Buy the score and parts (PDF download) — $75.00

Demonstration recording
Audio clip: Adobe Flash Player (version 9 or above) is required to play this audio clip. Download the latest version here. You also need to have JavaScript enabled in your browser.