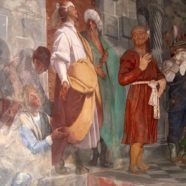 May

14
Tags
Related Posts
Share This
Whitwell, Symphony Nr. 5
David Whitwell (b. 1937)
Symphony Nr. 5, 'Sinfonia Italia' (1991)
1. Dawn on Monte Rosa
2. Sacro Monte
3. La Visione
During the Winter of 1990-1991 I was invited to serve as the President of the Jury for an international piano contest in Italy, which led to my spending some time hiking in the mountains west of Milano. This Symphony came to mind during that period and was written after I returned to Los Angeles.
Monte Rosa is the highest mountain in Italy, a very large and imposing sight in all respects.
Sacro Monte refers to a small local shrine in the mountains near Varallo. It consists of a series of tableaus of life-size figures carved by local artists depicting the final days of Jesus. When I visited it was in disrepair with the figures covered in dust, all of which added to a sense of the ancient. While walking around this outdoor shrine I heard distant church bells. These are heard again in this movement together with the singing of the village faithful (represented by the singing of the audience).
The title of the third movement, La Visione, refers to some private thoughts I had at the time.
Download a preview of the score.
Buy the score and parts (PDF download) — $75.00

The live performance is by the California State University, Northridge Wind Ensemble, David Whitwell, Conductor, given March 24, 1999.
Audio clip: Adobe Flash Player (version 9 or above) is required to play this audio clip. Download the latest version here. You also need to have JavaScript enabled in your browser.